The physicians and staff of Dunes Family Health Care (DFHC) would like to welcome you to our clinic. Our clinic has been serving the Coastal Douglas area since 1977. Dunes Family Health Care was recognized by the Oregon Health Authority as a Patient Centered Primary Care Home (PCPCH) in 2012.
We are very pleased that you have chosen us to assist you with your medical care. This is a trust that we will make every attempt to honor with the quality of medical care that you require and deserve.
Trust between a provider and patient is the core of any healing process. The concept of Family Medicine is based on building this trust. When you or one you love is ill or injured, you want responsive, caring, knowledgeable health services performed by a qualified professional who knows you and your family situation. You need a physician and medical support team who is sensitive to your living conditions, family health history, and other factors that might contribute to your illness or its cure.
Because the DFHC physicians and providers have chosen Family Medicine as their medical specialty, they specialize in you and coordinating your total health care.
The primary goal of Family Medicine is wellness. A major emphasis of DFHC is patient education. We try to help you understand how to maintain good health as well as understand illnesses.
We encourage our patients to participate in their care and welcome questions and suggestions on how we can best meet your needs.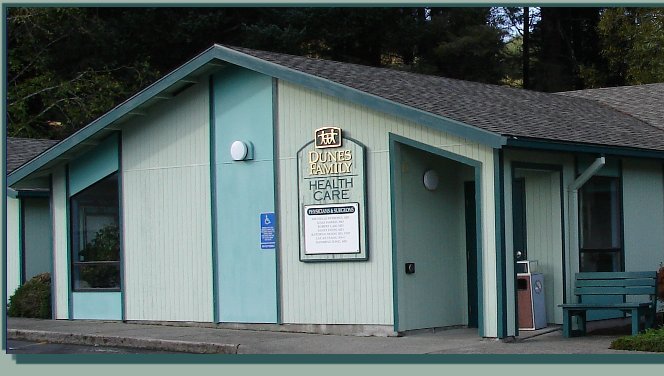 To become a specialist in Family Medicine, a physician must complete three years of additional training after medical school, and then pass a very demanding examination in order to become Board Certified. The Family Medicine Physician must also continue to take 50 hours of postgraduate education every year, and undergo another rigorous examination every seven years in order to be recertified. The American Board of Family Medicine certifies all of our Family Medicine Physicians. All of our physicians continue their training and education so that they may offer you the benefit of the most current medical thinking possible. Dunes Family Health Care also employs a board-certified family nurse practitioner and a board-certified physician assistant to help meet your healthcare needs.
We are qualified and experienced in all aspects of Family Medicine. Internal medicine, pediatrics, surgery, geriatrics, gynecology, psychiatry and community medicine are all part of our regular practice. If we feel your problem needs diagnosis or treatment by another specialist, we will refer you to the best consultants available, then work closely with these consultants to ensure that all factors are considered and treated. More importantly, we ensure that you will always have a physician available to coordinate the specialists' information, and explain it to you in a fashion you can trust and use. Our medical care providers uphold the specialty of Family Medicine, providing a scope of clinical competence that allows the patient, not the disease, to be the focus of care.
This practice does not discriminate against a patient because of race, color, sex, disability, religion, national origin sexual orientation, or inability to pay.
We serve all patients regardless of inability to pay.
Discounts for essential services are offered based on family size and income.
For more information, ask at the front desk or visit our website.
Thank you.
Esta práctica no discrimina a un paciente debido a raza, color, sexo, discapacidad, religión, orientación sexual de origen nacional o incapacidad de pago.
Servimos a todos los pacientes independientemente de la incapacidad de pagar. Descuentos para servicios esenciales se ofrecen basados en el tamaño de la familia y los ingresos. Para obtener más información, pregunte en la recepción o visite nuestro sitio Web.
Gracias